Opening a Moneybookers Account
Moneybookers is a quick and reliable on-line wallet service. Players can open an account, and fund it via bank transfer or card.
We recommend Moneybookers as the LunaCasino player's choice for reliable and trustworthy online payments. It's instant, so you can challenge your friends to a game at LunaCasino within minutes!
It is very easy to open an account with Moneybookers. Just click this link to open one and select "Sign up now".
Please note that they also have the site in various different languages.
For English please select this link.
For Greek please select this link.
We have created a step by step guide to open a Moneybookers account if you need the extra help. Please click here.
Once you have registered and funded your Moneybookers account, you will be able to instantly deposit to your lunacasino.co.uk account and start playing right away.
If you need help with depositing then you can access their FAQ's (Frequently Asked Questions) and then select "Deposits".
Moneybookers have a Customer Call Centre: +44 203 308 2520
They also have an online messaging service which is also useful.
The minimum amount for a deposit with Moneybookers is $20, as for withdrawal; really there is not a restricted amount!
When using Moneybookers to deposit or withdraw at our casino, there are no fees.
Instructions
It takes just four very easy steps to open an account with Moneybookers. Start by going to www.skrill.com and select "Sign up now".
Account Type
Email verification
Personal details
Confirmation
Moneybookers requires the following information to ensure your identity.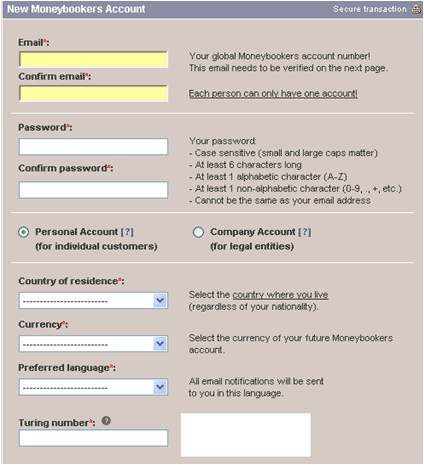 Once you have completed this page a verification email containing a link will be sent to your email address.
Check your e-mail and simply click on the link to verify your email address and then continue with the registration process.
Next, enter your full personal details.
Once you have filled in your details click "NEXT".
You will then receive confirmation of your details.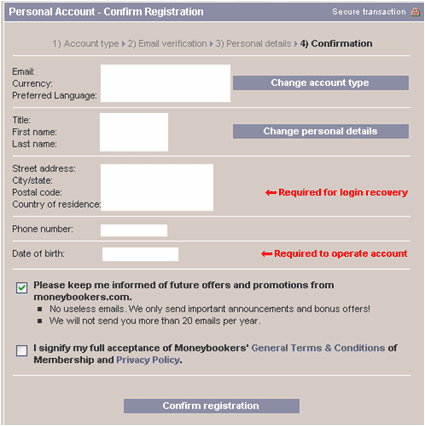 Tick the box accepting the General Terms and Conditions and click on "Confirm Registration". You have now succeeded in opening your Moneybookers account.
Availability depends on your country